Effects Menu
This menu contains many commands that can be used for applying special effects to your image.
Effects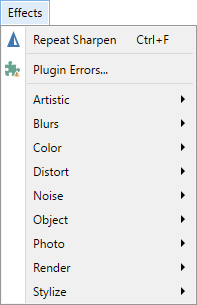 Repeat
The last effect you have used is available for quick re-use with this command. The same settings will be applied - no configuration dialog will be shown.
Organization
The built-in effects are organized in to seven (7) sub-menus:
These give the result of something drawn with traditional artistic means such as ink, pencil, and oil.
These blur the image in various ways.
These distort or convolute the image, often beyond recognition.
These are used to add or remove noise from the image.
These are generally most useful when used on photographs.
These usually overwrite any image that already exists on the canvas.
These produce stylized looks useful in finding edges for tracing, or producing specialized textures for game development (e.g., bump maps).