File Menu
The file menu provides commands to open, acquire, and save images in Paint.NET. These options behave similarly to other document authoring and image editing programs.
File Menu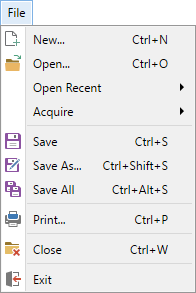 New
This allows you to create a new, blank image. The default size is 800 x 600, or the size of any image that has been copied to the clipboard. The following dialog is displayed when you click on this menu item. You may use the "Maintain aspect ratio" checkbox to ensure that the ratio between width and height remains the same. The new size of the image is also displayed at the top of the dialog box; this can be used to determine how much memory the image will use, but may not reflect how large it will be when you save it to disk (it will usually be smaller).
New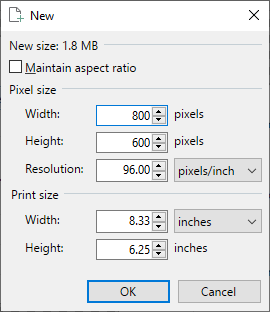 Open
This allows you to open an existing image. The opened image will be added to the image list. It works the same as the Open facility in just about any other document-oriented application.
Open Recent
Illustrated above, the Open Recent menu allows you to quickly access the last eight images you have opened with Paint.NET. Each image is accompanied by a thumbnail to help you quickly located it visually. There is a command to "Clear this list", which allows you to quickly remove all entries from the Open Recent list.
Acquire
This submenu contains one item: From Scanner or Camera. This allows you to create a new image that is acquired from either a scanner or camera attached to your computer. The scanner or camera must support Windows Image Acquisition 2.0 (WIA).
Acquire

Close
This closes the current image. If you have made changes that have not been saved, you will be asked for confirmation before closing:
Unsaved Changes
Save
This command saves the image with the current filename. If you have not saved the image before, and if the file type you are saving as requires configuration (GIF, TGA, and JPEG), then you will be presented with the Save Configuration dialog. If you have not yet named your image (that is, if it's still called "Untitled"), you'll need to give it a name.
For JPEG images, you will be presented with the ability to configure the quality of the image. For GIF images, you may configure how transparency and dithering are handled. Lastly, TGA images may be configured to save at 24 or 32-bit, and with or without RLE compression.
The dialog shows a preview of how the image will appear when loaded in another application (or in Paint.NET) after it is saved. The file size is shown below the preview. You may use the configuration settings to help you optimize quality vs. file size.
Save
Save As
Normally when you use the standard Save command it will reuse the filename and settings that were given before and overwrite the existing image. The Save As command allows you to specify a new name and, if applicable, new settings.
Print
This allows you to print your image using the built-in Windows Photo Printing user interface. It presents a simple wizard-based interface that will guide you through the printing process.
In Windows 7 and Vista, the Print interface will look like this:
Print
Exit
Use this to exit Paint.NET. You will be asked to save your changes if you have not already done so. If you have many images that have unsaved changes, you will be asked for confirmation before exiting.
Unsaved Changes