Line/Curve Tool
This tool may be used to draw lines and curves. These two abilities are grouped in to one tool because it is possible to stipulate that a line is simply a perfectly straight curve; therefore, this tool always draws curves, but "lines" simply have no curve applied to them.
Line/Curve Tool
Drawing a line is simple: click where you want the line to start and then drag over to the ending point and release the mouse button. You will see four handles, or nubs, appear on the line.
Tip
By holding down the shift key before you release the mouse button, you may constrain the line to an angle that is a multiple of 15 degrees.
If you only want to draw a line, you may press the Enter key at this point to finish the line. You may also simply draw elsewhere to begin a new line.
The handles pulsate so that they are easier to distinguish from the rest of the image:
Line/Curve Handles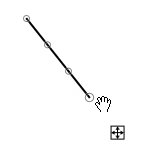 You may curve the line by dragging the nubs. If you use the left mouse button for dragging, then the line will be curved using cubic spline interpolation. Essentially, the curve will be drawn such that it always goes through each point. However, if you use the right mouse button then you will draw what is known as a Bézier curve. With this method, the curve will not necessarily go through each point, but you will be able to draw curves that are not possible with the cubic spline method.
Cubic Spline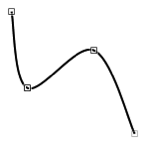 Bezier Curve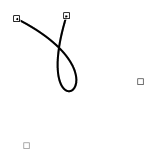 When you are finished curving the line, you may press Enter to finish it. Or, you may start drawing elsewhere to start another line.
Style
From the toolbar, the Line/Curve tool also allows you to specify a start cap, dash style, and end cap. The start- and end-caps can be flat (normal), one of two arrow head types, or rounded. The dash style can be either solid or a combination of dashes and dots.
Line/Curve Style

Using these, you can draw lines like the following:
Example Lines