Magic Wand Tool
The Magic Wand tool allows you to select areas of similar color, taking into consideration factors such as the actual content of the image and the current tolerance setting. In many cases, all that needs to be done to select a given area of the image is to simply click on it. You may think of the Magic Wand as working similarly to the Paint Bucket, except that instead of filling the area with color it will select that area.
Magic Wand Tool
Tolerance
Similar to the Paint Bucket tool, Magic Wand's results can be adjusted by tuning the tolerance. The effect of adjusting the tolerance value is shown below:
Example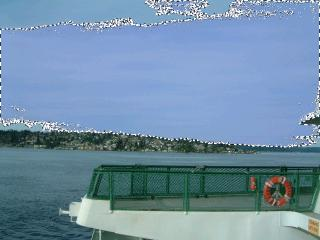 Magic Wand tolerance set to 25%. The selection doesn't capture enough of the image: the tolerance is too low.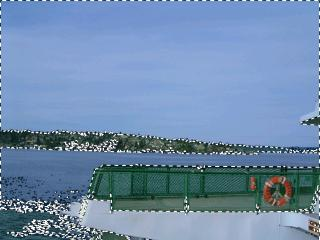 Magic Wand with tolerance set to 50%. The selection captures too much of the image: the tolerance is too high.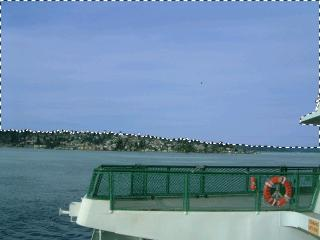 Magic Wand set with a tolerance value of 31%. The selection properly captures the area of interest, no more, no less.
Advanced Use
Selection Building
Sometimes it is not possible to select a given region using only one click. Frequently, getting just the right selection can be difficult when the desired area is not near one solid color. To make selections like this, it works well to repeatedly use the Magic Wand with a low tolerance value and an additive selection mode, extending the selection each time to capture slightly more of the desired region with each click.
Tip
You can also extend the selection each time by clicking a new area while holding Ctrl.
Example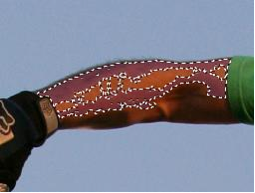 Magic Wand Selection with tolerance set too low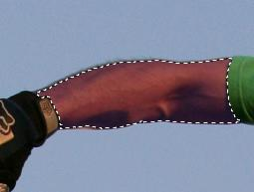 Continuing to use magic wand selection while holding Ctrl
Selection By Exclusion
It also works well to make a basic selection with a tool such as the lasso tool, then use Magic Wand to refine the selection. This method is particularly effective when the subject is identified by the lack of fine detail outside of a given region.
An initial selection is made using the lasso tool, then the Magic Wand tool is used to exclude the area that is not intended to be selected by utilizing a subtractive selection mode, which you can choose in the toolbar.
Tip
You can also exclude a region by clicking with by holding Alt and clicking with the right mouse button.
Example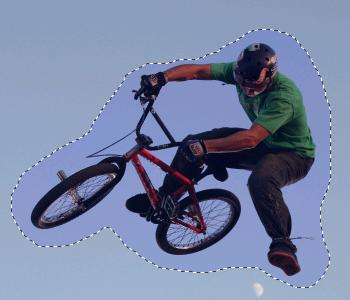 Using lasso tool to select rider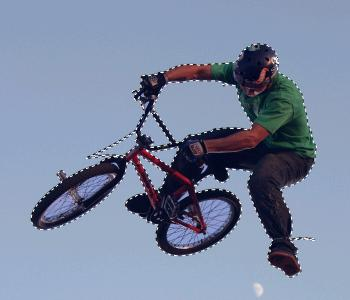 Using magic wand selection with exclusion to find edges
Global Selections
The Magic Wand normally limits the selection to only include the areas of the image that are touching and are of a similar enough color. It is possible, however, to make a selection based only on color, ignoring all boundaries and requirements for contiguity. This can be accomplished by simply holding Shift while performing any of the other Magic Wand tasks (including selection, subtraction and extension).
This selection was made by performing a Select All (Edit → Select All), then holding Shift while right clicking to exclude all black areas of the image. Note that many disconnected areas of black have been deselected:
Magic Wand Global Selection