Working With Layers
For this discussion the following two images will be used for the background layer and for the 1st layer that is placed on top of the background layer:
Background Layer - Seattle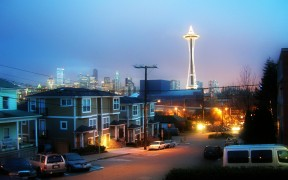 Top Layer - Apple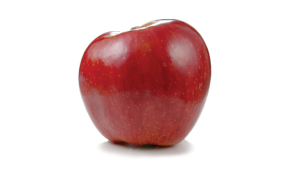 You may think of "layers" as a stack of transparency slides that, when viewed together, form a complete image. Paint.NET displays this stack as if you were viewing it from the top and with no perspective (layers do not get "smaller" when they are closer to the bottom of the stack, which would place them "farther away"). To better visualize how layers work, here is a diagram that relates the layers in a document to the Layers Window:
Layers Visualized
Pixels and Transparency
Every layer in Paint.NET is composed of pixels which contain a color and an alpha, or opacity value. This alpha value may range from 0 (completely transparent) to 255 (completely opaque). (Other software may refer to this as ranging from 0% to 100%.) If a pixel is transparent, then pixels from the layers below will show through. Paint.NET uses a technique called alpha compositing to be able to display a layered image on a standard computer monitor.
However, transparent pixels cannot be displayed on a computer monitor. In order to simulate this Paint.NET uses a checkerboard pattern, which looks like this:
Transparency

If you see this then it means that part of your image is transparent -- the checkerboard pattern is not actually part of the image. If you save the image and then view or load it with other software then the checkerboard pattern will not be there (unless that other software also uses a checkerboard pattern to simulate transparency).
In the following example, the background has been removed from the apple. When placed on another layer you can see the checkerboard represents the transparent area where lower layers show through:
Example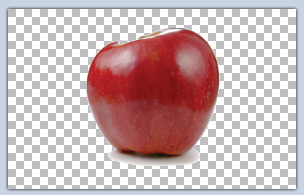 Background removed, represented by checkerboard pattern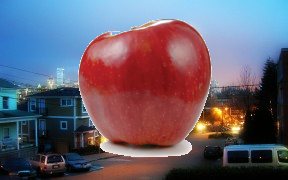 Apple placed on background image of Seattle
Layers and Opacity
While every pixel has transparency information associated with it, every layer also has an associated opacity value. The two terms are similar and in most cases can be treated as the same. You may think of a layer's opacity value as a "dimmer" for the alpha values of every pixel in the layer.
For example, if we take the top layer and adjust its opacity from 255 gradually down to 0, we will get the following images:
Example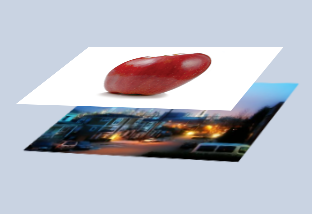 Top Layer at 255 opacity (100%) Completely opaque: The apple picture obscures the Seattle picture.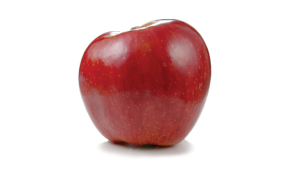 Resulting Image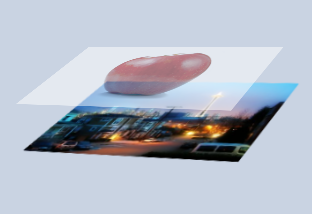 Top Layer at 128 opacity (about 50%) Partially transparent: The picture of Seattle is partially visible.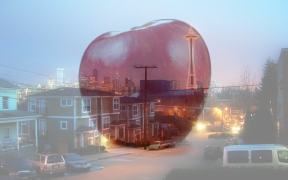 Resulting Image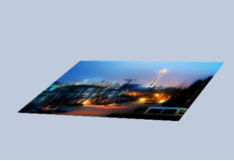 Top Layer at 0 opacity (0%) Completely transparent: The picture of the apple is not visible.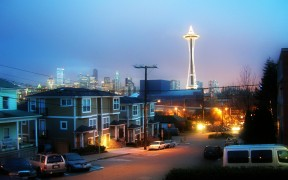 Resulting Image