Revision Date: 14 April 2021
Help Menu
This menu provides quick access to a number of online resources like the paint.net website, online documentation and the paint.net forum. There is also a link to send feedback and bug reports to the developer of paint.net.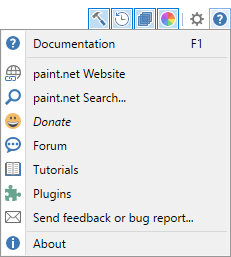 Documentation
Clicking this menu item opens the online documentation (which you are reading).
These help files are designed to teach users to understand and use paint.net. An internet connection is required to access these documents.
Tip
The online documentation can be opened at any time from within paint.net by pressing the F1 key.
paint.net Website
This link opens the paint.net website: https://www.getpaint.net
This is the best place to go to download paint.net, make a donation or to read the online documentation.
paint.net Search
This link opens a paint.net specific search engine Custom Search. The search will span the online resources (forum, website and blog) looking for the search term. An internet connection is required.
Tip
Open the custom search engine at any time with the keyboard shortcut Ctrl + E.
Donate
This opens the default web browser with this URL https://www.getpaint.net/donate.html where donations can be made.
paint.net is developed By Rick Brewster and contributors. Donations fund further development, new features and improvements to the "best free image editor".
Note: The Donate entry in the Help Menu does not appear if paint.net has been purchased from the Windows Store.
Forum
This link opens the paint.net forum: paint.net forum
The paint.net forum has many users just like you. Its a family-friendly place where users gather online to discuss paint.net related topics and to learn, teach and show off their abilities.
If you need questions answered, want to find out how to use paint.net, or are reporting bugs, the forum is the place to go. You can also find artwork, a wealth of tutorials and third-party plugins.
Registration is required to participate in the forum discussions or ask questions. There is no charge associated with using the forum.
Tutorials
This opens the default web browser on the section of the paint.net forum dedicated to publishing tutorials. Tutorials run the gamut from easy to advanced, including such effects as "fire text", exploding planets, and how to draw cartoons.
A specific section covers tutorials designed to introduce beginners to paint.net's basic features. This is a great place to start learning how to use paint.net.
The range of tutorials is expanded regularly by forum members, so be sure to check back often!
Plugins
This will open a web browser to the section of the paint.net forum dedicated to publishing plugins.
Some examples of plugins include support for new type of file formats, drop shadows, coloring tools and photographic adjustments.
Please note that plugins are provided by members of the forum. The paint.net team cannot provide support for them.
Send feedback or bug report
This will launch the default e-mail client with a template to send a bug report or general feedback to the paint.net developer.
If you are sending a bug report, please ensure that the bug is able to be reproduced and include the following information:
A step-by-step description of how to reproduce the problem, error, or crash.
If you are reporting a crash, please include the contents of the most recent "pdncrash.log". The latest 20 crash logs are stored in %LOCALAPPDATA%\paint.net\CrashLogs (e.g. C:\Users\username\AppData\Local\paint.net\CrashLogs). A neat way of finding this folder is to open paint.net's Settings » Diagnostics » Open Crash Log Folder. The log provides useful information which the developer can use to trace the source of the problem. Don't worry too much if you can't find this file.
Your computer's specifications. The relevant information can be copied from paint.net's Settings » Diagnostics dialog.
About
This shows information about paint.net, including the full version number and copyright information.